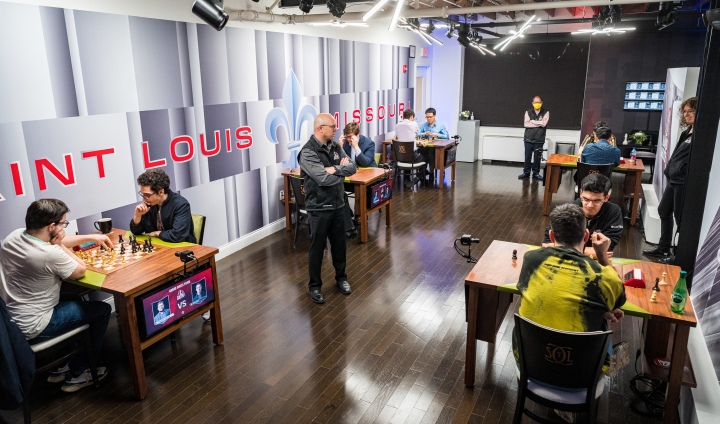 Maxime Vachier-Lagrave took the sole lead after the first day of blitz, thanks to a fantastic 7/9 performance to give him a total score of 17/27. Trailing with 15 points each are Fabiano Caruana and Ian Nepomniachtchi, with nine more games of blitz to be played tomorrow.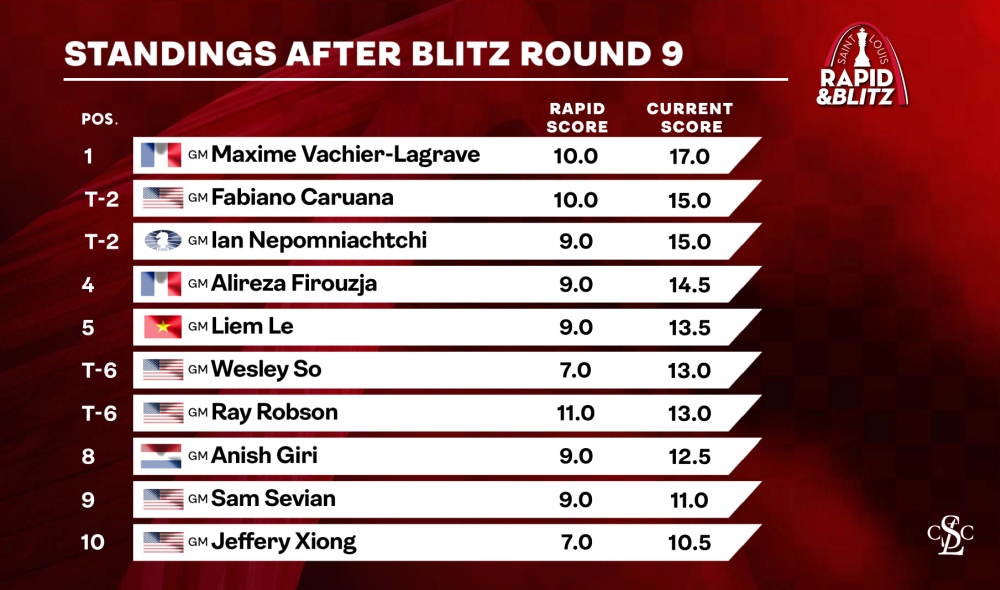 BLITZ | ROUNDS 1-9
After a solid performance in the rapid MVL started the day with a win over Liem, before losing his first game of the event at the hands of Nepomniachtchi. From there the French No. 2 uncorked three straight wins against Firouzja, Giri, and Robson before scoring wins against So and Sevian to close out the day.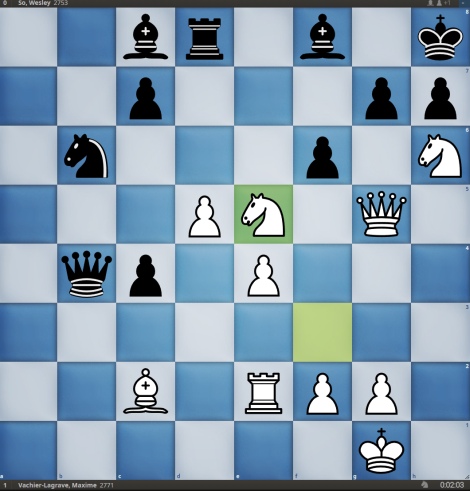 MVL-So: After 33.Ne5!! White leaves the queen en prise due to the threat of Nef7#. MVL went on to keep the initiative and convert the game.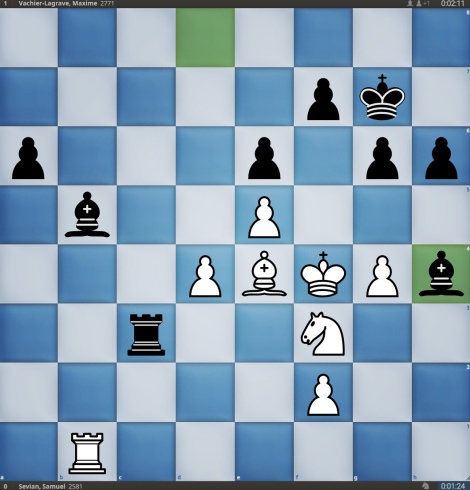 Sevian-MVL: After 35…Bxh4!, Black won the game due to the threat of g6-g5 mate.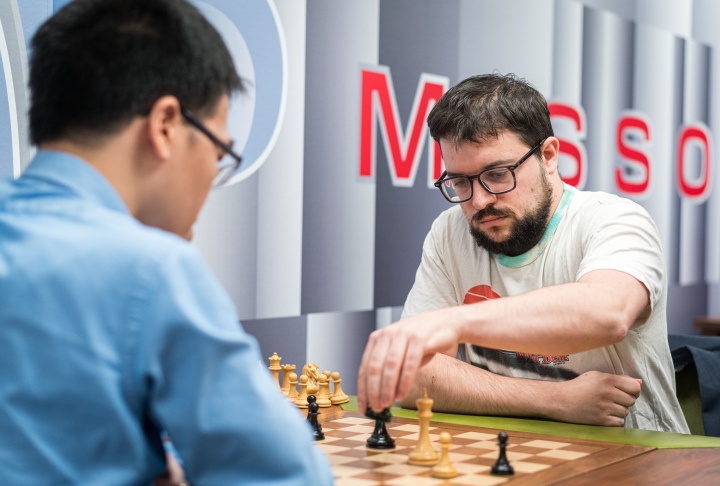 An incredible day for MVL, who seized a clear lead in the tournament. | Photo courtesy of Saint Louis Chess Club, Lennart Ootes
Finishing in a current tie for second were Fabiano Caruana and Ian Nepomniachtchi, with Caruana losing a key game in Round 14 where he overpressed against Nepo. But he would then bounce back with wins over Firouzja and Giri. In particular the win over Firouzja was exciting–after a successful Nxg5 sacrifice in the Italian, Caruana misplayed things and was in danger of losing, but a last-ditch Hail Mary attempt at Firouzja's king ended up provoking a key blunder: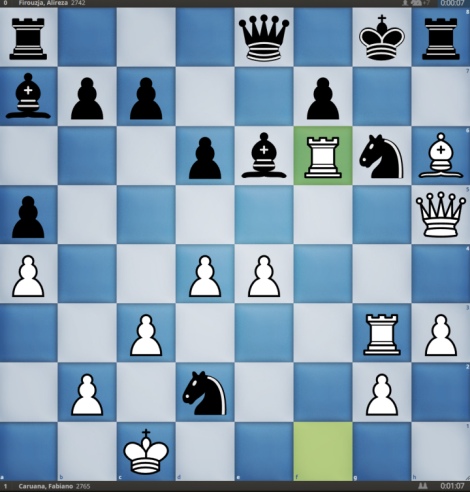 Caruana-Firouzja: After 25.Rf6! with seconds on his clock, Firouzja wasn't able to find a suitable defense, and quickly went down after 25…Rh7 26.Rfxg6+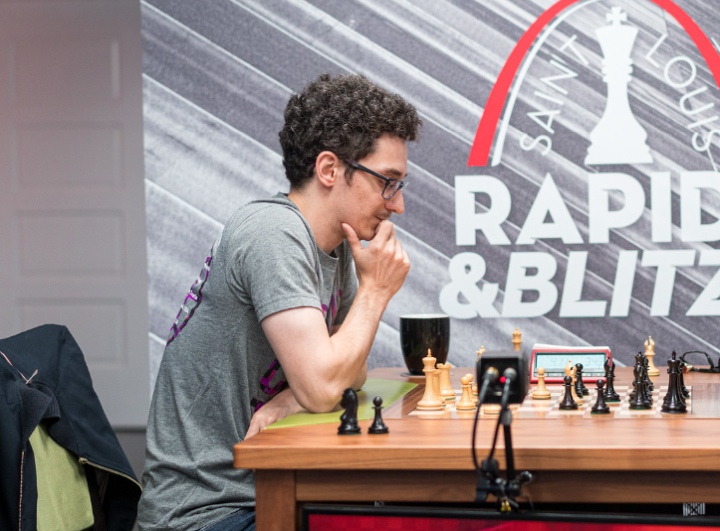 Caruana had an up and down day, with lots of turnarounds. | Photo courtesy of Saint Louis Chess Club, Lennart Ootes
Nepomniachtchi's day was the most volatile of all, as he started off with wins against Robson and MVL before dropping a game to So, followed by winning four straight games against Sevian, Caruana, Liem, and Xiong before finishing the day with losses to Firouzja and Giri.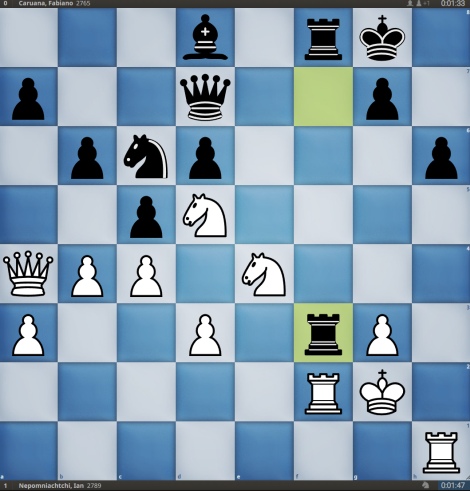 Nepo-Caruana: After 25…Rxf3! Black won a pawn due to the idea of 26.Rxf3 Rxf3 27.Kxf3 Nd4+, but Nepo managed to later turn things around.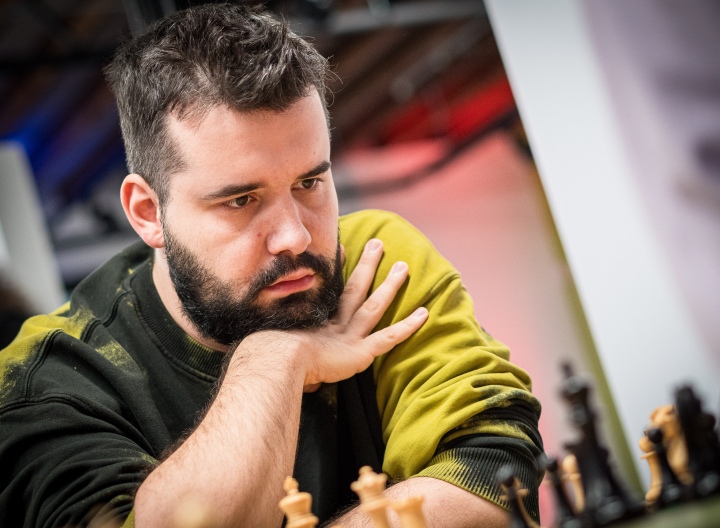 No draws for Ian, who won most of his games in technical fashion. | Photo courtesy of Saint Louis Chess Club, Lennart Ootes
Tomorrow the players will play another nine rounds of blitz, with the colors reversed, to determine the 2023 Saint Louis Rapid & Blitz champion.
The 2023 Saint Louis Rapid & Blitz continues tomorrow, November 18th, starting at 1:00 PM CDT. Catch all the action live with grandmaster commentators Yasser Seirawan, Peter Svidler, and Tania Sachdev on uschesschamps.com and on the Saint Louis Chess Club's YouTube and Twitch.tv channels.
Written by IM Kostya Kavutskiy
Photos: Lennart Ootes
Official website: 
grandchesstour.org/2023-grand-chess-tour/2023-saint-louis-rapid-blitz