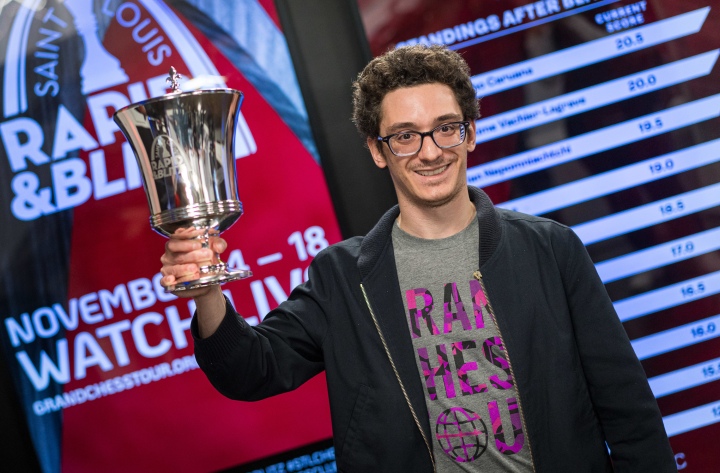 Fabiano Caruana became the 2023 Saint Louis Rapid & Blitz champion after a dramatic final day of blitz, which came down to a winner-take-all last round game against Maxime Vachier-Lagrave. Caruana ended with 21/36 points, Vachier-Lagrave finished second with 20.5, while Ian Nepomniachtchi and Le Quang Liem tied for third place with 20.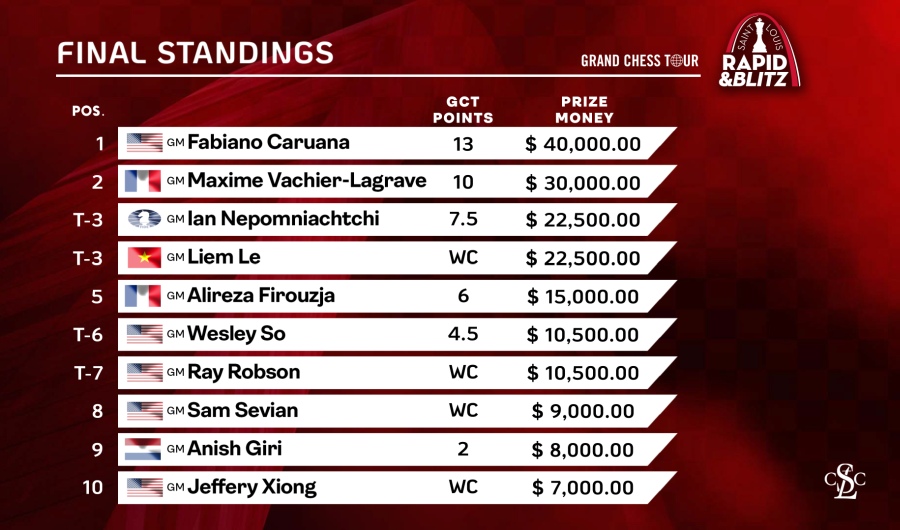 Earning 13 GCT points for the tournament victory, Caruana is now extremely close to clinching the overall 2023 Grand Chess Tour: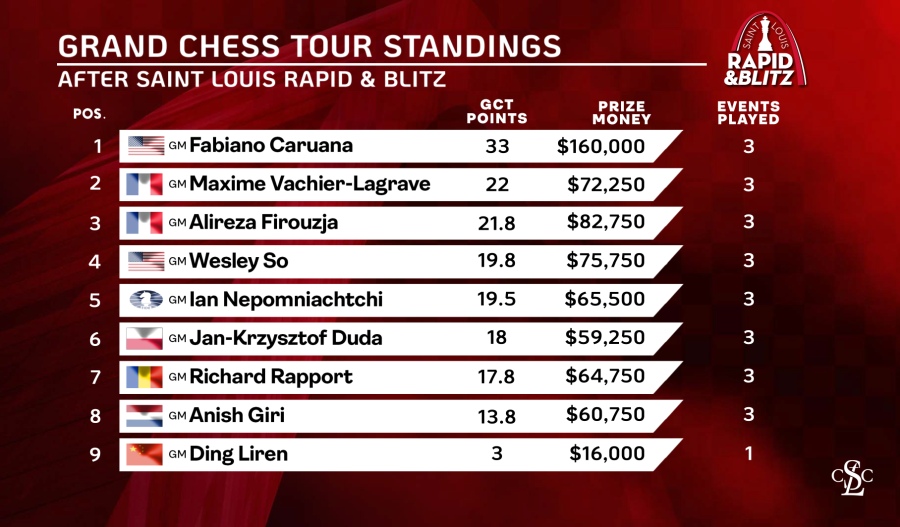 BLITZ | ROUNDS 10-18
The Day 4 leader, Maxime Vachier-Lagrave, struggled on the final day, losing his first two games to Liem and Nepomniachtchi before stabilizing with a much-needed win over Firouzja: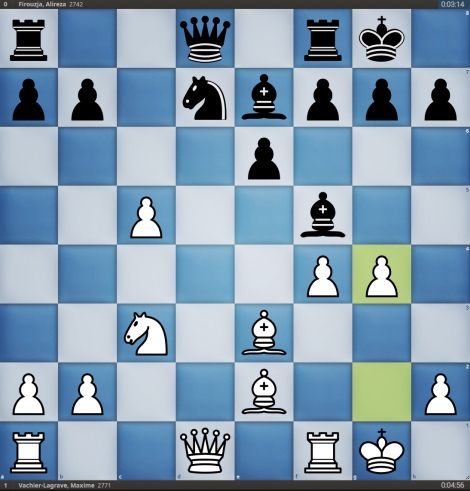 MVL-Firouzja: After 15.g4!, White traps Black's bishop on the kingside.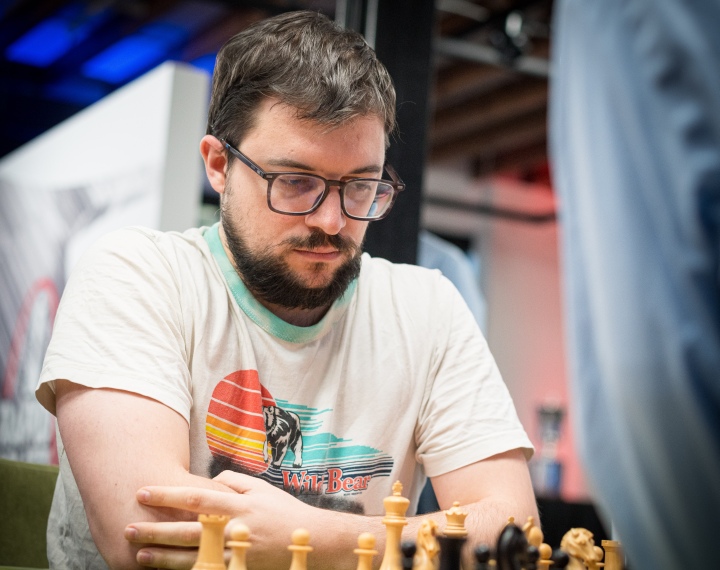 MVL was brilliant on the first day of blitz, but lost steam during the second. | Photo courtesy of Saint Louis Chess Club, Lennart Ootes
Vachier-Lagrave would go on to score five draws and a loss to So, but would still have chances in the very last game against Caruana. Fabi's road to the top was also rocky, after starting the day with 5.5/7 which included three straight wins over Nepo, Firouzja, and Giri, he flagged in a rook and bishop vs. rook ending against Robson in the penultimate round.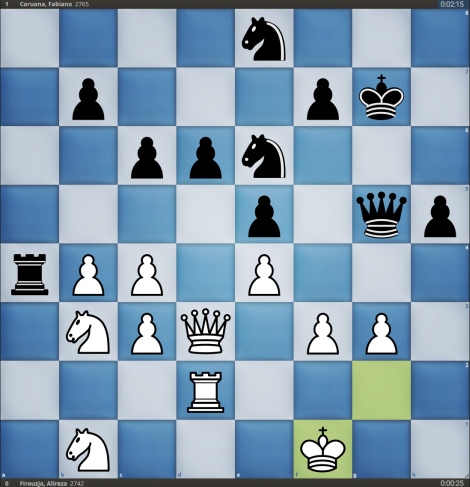 Firouzja-Caruana: After 36.Kf1? It looks like the g3-pawn is immune because of Rg2, but Black has Qxg2+! (and Nf4), so Caruana played 36…Qxg3! with a decisive advantage.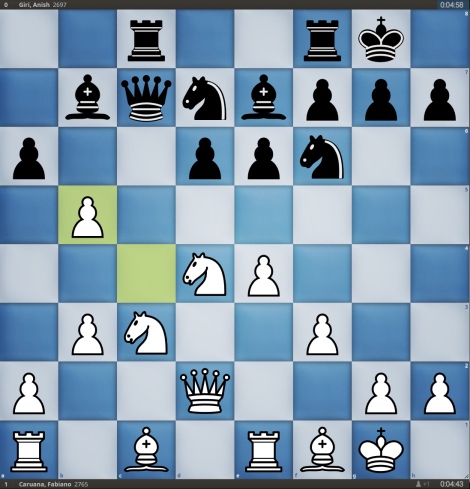 Caruana-Giri: After 15.cxb5!? was a bold choice, sacrificing the knight on c3 for three passed pawns on the queenside.
Heading into the final round, Caruana was ahead of MVL by half a point, and faced him with the White pieces. MVL played excellently in a Semi-Slav to achieve a winning endgame, but blundered his advantage in a single move, allowing Caruana to save the game and clinch the tournament.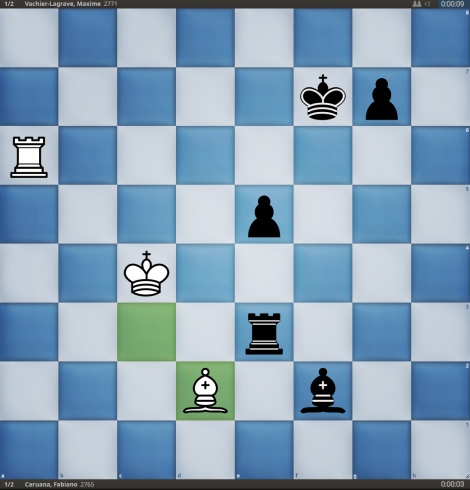 Caruana-MVL: In this key moment MVL blundered with 57…Re2?, getting his rook trapped and allowing Caruana to save the game with 58.Kd3!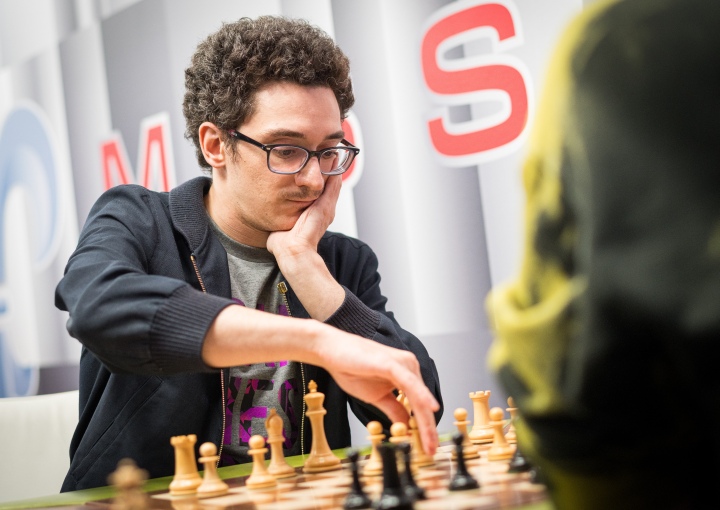 Caruana worked hard to overtake the lead, then came incredibly close to losing it at the end. | Photo courtesy of Saint Louis Chess Club, Lennart Ootes
Finishing in a tie for third place were Nepomniachtchi and Liem, each with different paths. Nepo was close to the lead for most of the day, but never managed to pull ahead, losing his chances after a penultimate round collapse against Firouzja.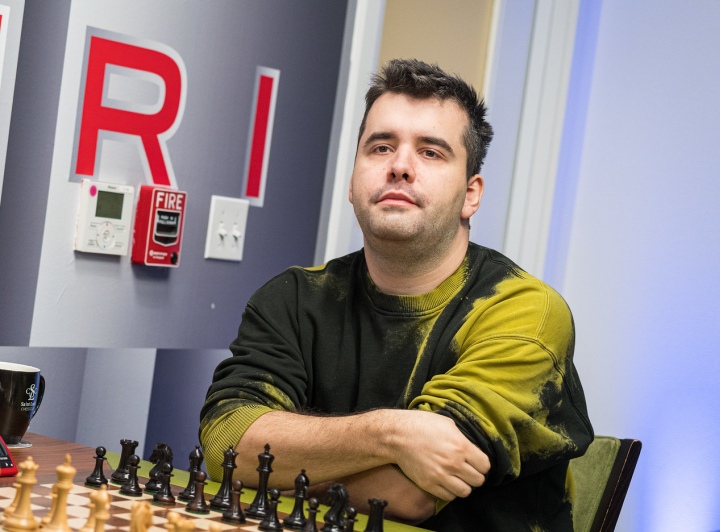 Ian was tied for the lead at various moments, but lost important games to Caruana and Firouzja. | Photo courtesy of Saint Louis Chess Club, Lennart Ootes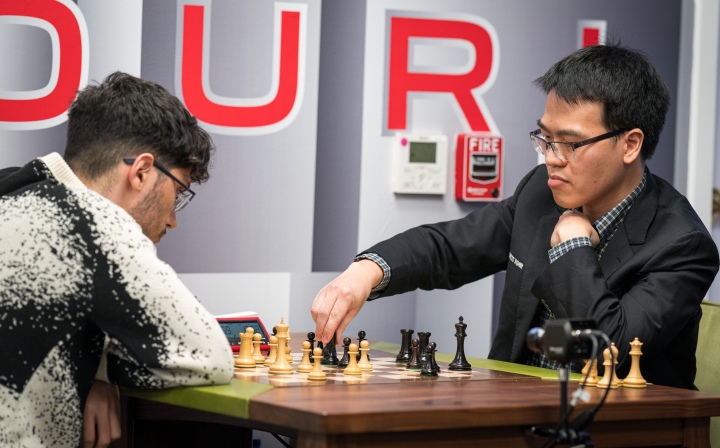 An excellent 6.5/9 for Liem on the final day. | Photo courtesy of Saint Louis Chess Club, Lennart Ootes
The Sinquefield Cup, the final leg of the 2023 Grand Chess Tour, begins Tuesday, November 21, with live coverage starting at 1:15 PM CST. Catch all the action live with grandmaster commentators Yasser Seirawan, Peter Svidler, and Jovanka Houska on uschesschamps.com and on the Saint Louis Chess Club's YouTube and Twitch.tv channels.
Written by IM Kostya Kavutskiy
Photos: Lennart Ootes
Official website: 
grandchesstour.org/2023-grand-chess-tour/2023-saint-louis-rapid-blitz