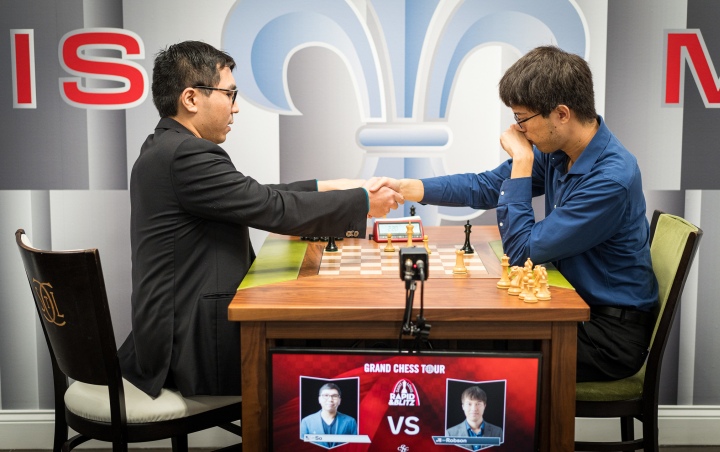 Despite a last round loss Grandmaster Ray Robson ended up winning the rapid portion of the 2023 Saint Louis Rapid & Blitz, with a score of 11.0/18 heading into the blitz tomorrow. Tied for second were GMs Fabiano Caruana and Maxime Vachier-Lagrave, both on 10.0/18, with several players (Firouzja, Nepomniachtchi, Giri, Liem) trailing closely behind with an even 9.0/18.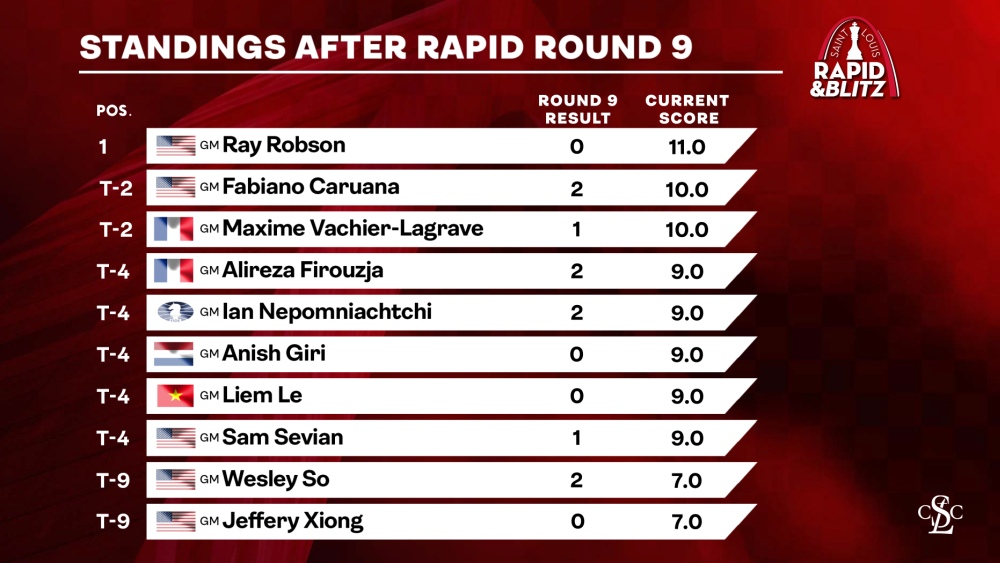 RAPID | ROUNDS 7-9
The initial round started off quietly, with only Nepomniachtchi scoring victory over So, allowing Robson to keep his one point lead after drawing with Vachier-Lagrave. In Round 8 Robson would then defeat Nepo, as he managed to force the win of a piece before successfully navigating through a series of complications: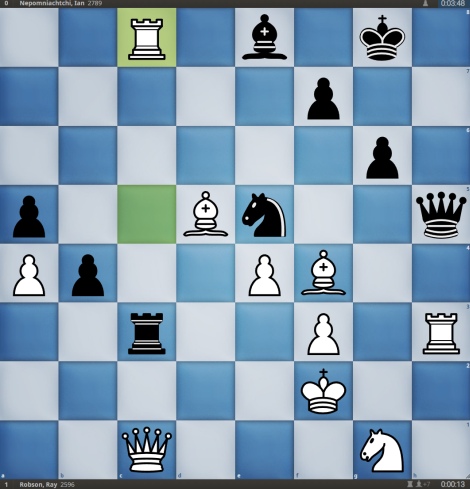 Robson-Nepomniachtchi: After 37.Rxc8! everything is hanging, but White's capturing more. The game concluded 37…Nd3+ 38.Kg3 Nxf4 39.Rxe8+ Kh7 40.Qxf4 1-0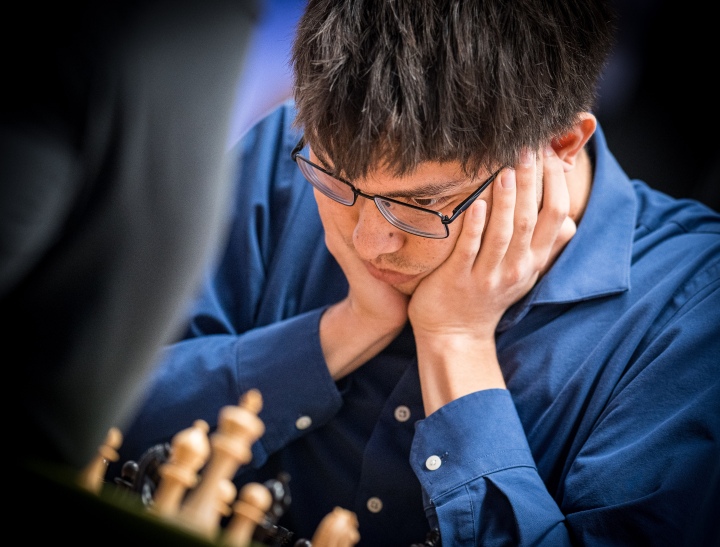 Robson lost the final game, but still managed to stay on top. | Photo courtesy of Saint Louis Chess Club, Lennart Ootes
The win gave Robson a two-point lead heading into the last round of the rapid, where he ended up losing in a well-played game by So. Once again the final round was the most decisive–in addition to So's win, Firouzja defeated Giri, Nepo scored against Liem, and Caruana converted a big advantage against Xiong: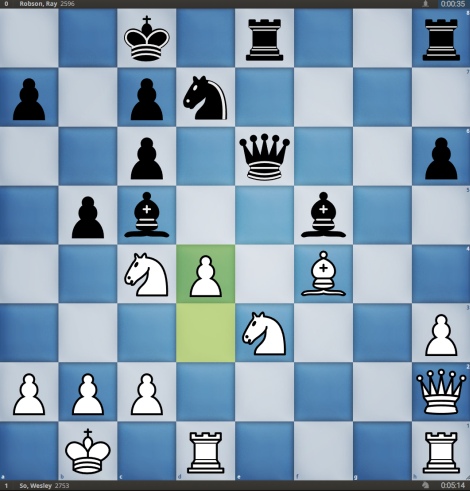 So-Robson: After 25.d4! White got a strong initiative on the dark-squares. So later converted a rook and bishop vs. rook and knight endgame.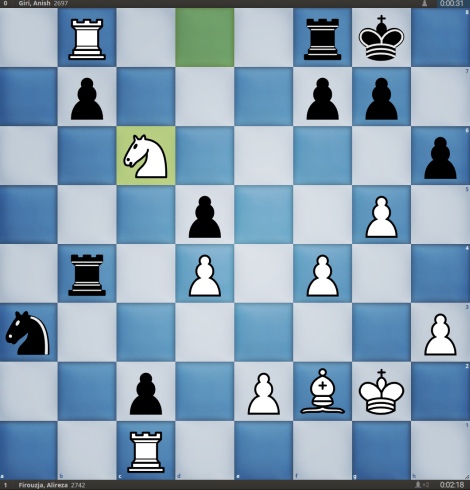 Firouzja-Giri: After 33.Nc6!, an elegant move to keep White's extra material.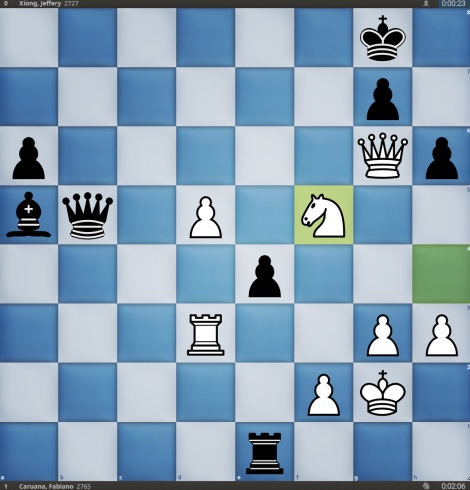 Caruana-Xiong: After 46.Nf5!, White's attack on the king was too strong.
With all the results in, Robson was left atop of the standings as his closest competitors (MVL, Giri, Liem), all failed to win in the final round.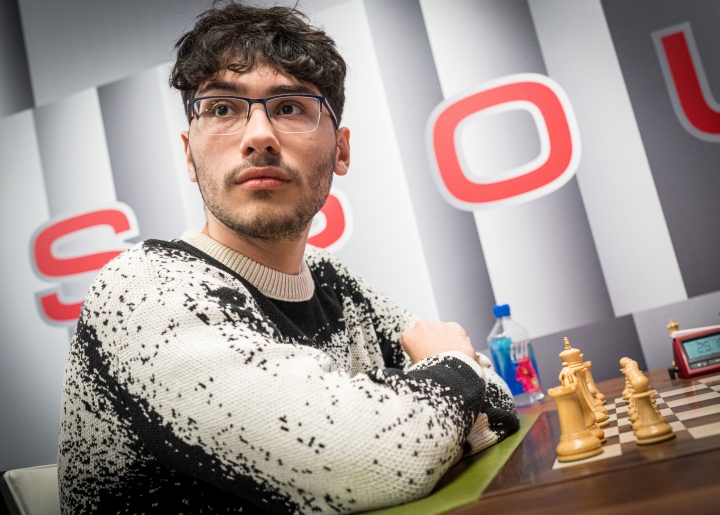 Firouzja (9.0/18) is one of several players still in striking distance for the blitz. | Photo courtesy of Saint Louis Chess Club, Lennart Ootes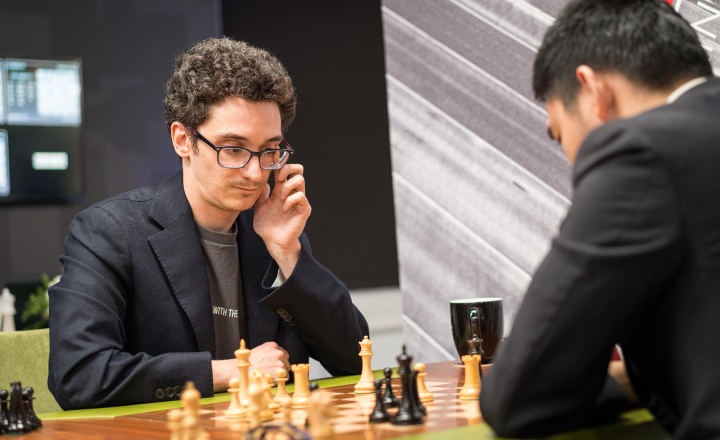 After a first round loss to Alireza, Caruana has bounced back to end on +1. | Photo courtesy of Saint Louis Chess Club, Lennart Ootes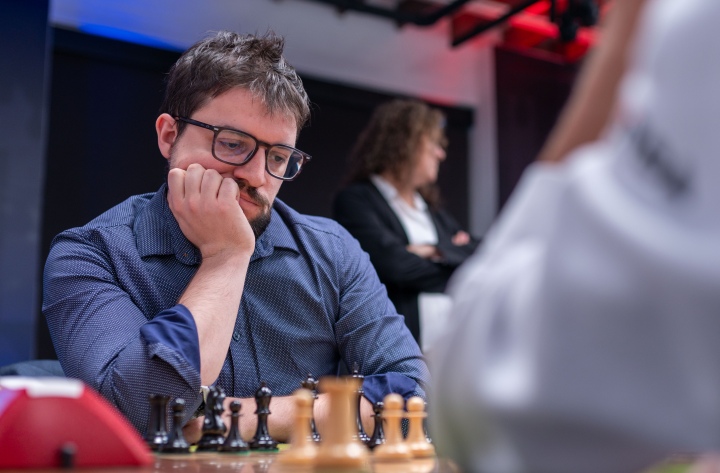 MVL had a very solid rapid event, with eight draws and one win. | Photo courtesy of Saint Louis Chess Club, Crystal Fuller
The field will next play a double round-robin in blitz, with just one point awarded for a win instead of two.
The 2023 Saint Louis Rapid & Blitz continues on November 17th, starting at 1:00 PM CDT. Catch all the action live with grandmaster commentators Yasser Seirawan, Peter Svidler, and Tania Sachdev on uschesschamps.com and on the Saint Louis Chess Club's YouTube and Twitch.tv channels.
Written by IM Kostya Kavutskiy
Photos: Lennart Ootes
Official website: 
grandchesstour.org/2023-grand-chess-tour/2023-saint-louis-rapid-blitz