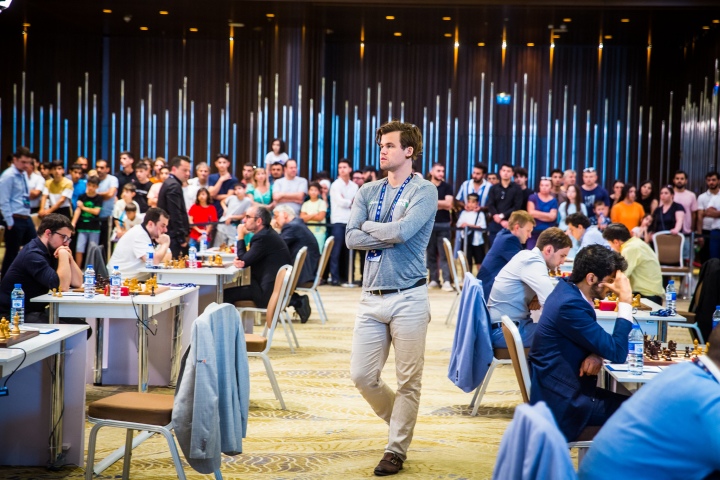 In a sign that things are tightening up at the World Cup, a huge number of games ended in a draw, setting the stage for a more challenging second day for the favourites
Magnus Carlsen and Leinier Dominguez Perez were the only top-rated players in the Open to score a victory. While all the other top players started round three with a draw, Daniil Dubov lost with white pieces against Daniele Vocaturo.
Things were similar in the Women's tournament, where Aleksandra Goryachkina and Mariya Muzychuk were the only two leading players to score a victory.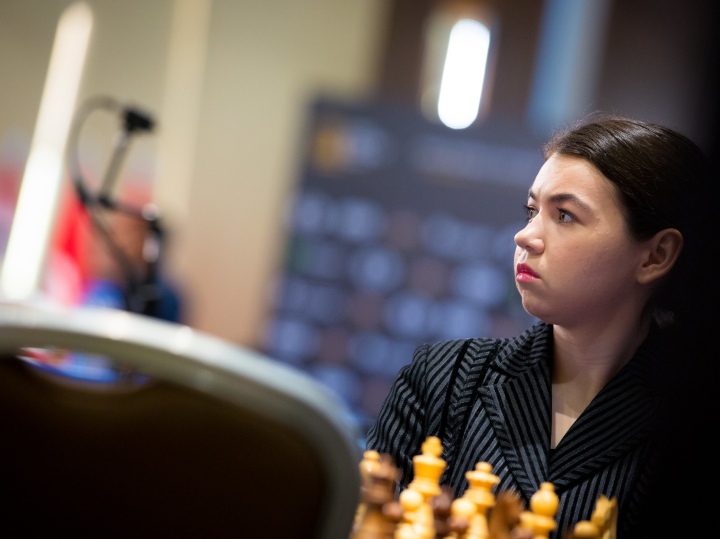 The Open Tournament highlights:
The main surprise of round three in the Open Tournament is Daniil Dubov's unexpected loss as White against Italian Daniele Vocaturo (who eliminated Andrei Volokitin in the round two tiebreaks). After finding a nice combination to draw an even position, Dubov blundered, allowing the black king to escape perpetual check. Dubov ended with a rook down and ultimately had to resign.
Norway's number two, Aryan Tari, played a solid game as Black against the world's highest-rated player and countryman, Magnus Carlsen. Tari ended with five pawns and a knight against a rook and three pawns, but Carlsen – who is regarded as one of the best endgame players in history – slowly peeled off Black's position and then transitioned to a winning pawn endgame.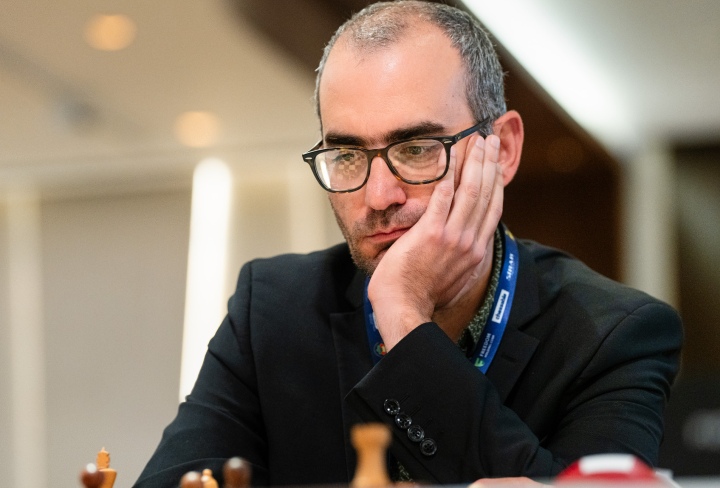 Cuban-born American Leinier Dominguez Perez had a lucky break against Azerbaijan's Gadir Guseinov. In a sharp opening line where Black (Guseinov) gave up a knight for four pawns, the two reached an even endgame. In a critical moment, facing time trouble, Guseinov blundered and was immediately lost.
Salem Saleh is continuing his excellent run in the World Cup. Today he defeated Iran's Bardiya Daneshvar (who yesterday eliminated Grischuk after four rounds of nail-biting tiebreaks) after a sharp attack, which destroyed the black king's fortress and saw him getting caught up in a mating net in the centre.
Notably, wildcard-entrant Peter Svidler defeated Jeroen Van Foreest after the Dutchman allowed the FIDE World Cup 2011 winner to launch a crushing attack on the kingside.
All the other top favourites drew their games, including Nakamura, Caruana, Nepomniachtchi, Giri, Duda, So, Radjabov, and others.
The Women's Tournament highlights:
Former Women's World Champion Mariya Muzychuk and former World Championship Challenger Aleksandra Goryachkina got off to a good start in Round 3 as they pushed forward with a victory against Indian players.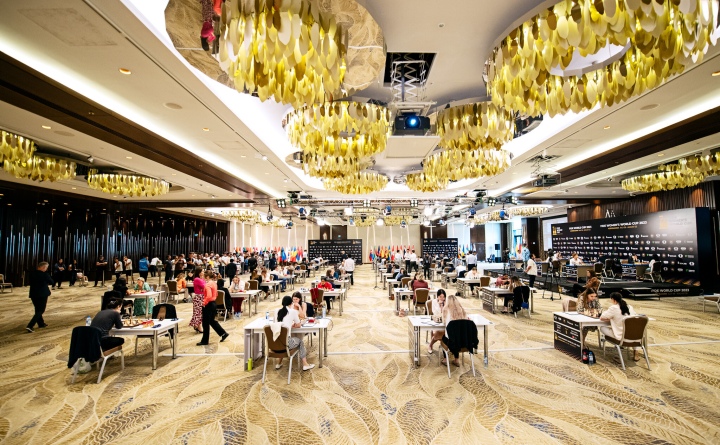 Mariya Muzychuk was better throughout her game against India's rising star Vaishali Rameshbabu and won. Goryachkina scored against Deshmukh Divya after the Indian player overlooked a combination in the middlegame leading to a dominating position for White.
The derby Round 3 in the Women's tournament, between Elisabeth Paehtz and the reigning Women's World Blitz Champion Bibisara Assaubayeva, ended in a draw, with neither side gaining any advantage.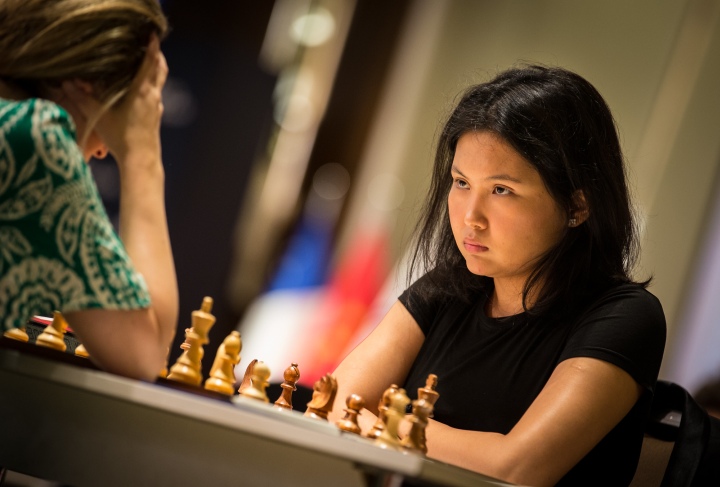 Georgia's Nino Batsiashvili scored a notable victory as Black against China's Zhao Xue.
Women's World Champion Ju Wenjun drew with black pieces against Ulviyya Fataliyeva, while the 2011 Women's World Cup Champion, Alexandra Kosteniuk, was held to a draw by Serbia's Teodora Injac.
Other top women players – Humpy Koneru, Tan Zhongyi, Anna Muzychuk, Zhu Jiner, Harika Dronavalli, and Polina Shuvalova, start round three with a draw.
The full list of the results from the first game of round three can be found here: https://worldcup2023.fide.com/tree.
Here follows a look at some of the most interesting positions from the first game Round 3:
Daniil Dubov suffered a shocking defeat today as he lost a drawn endgame to more than 100 points lower-rated Italian GM Daniele Vocaturo.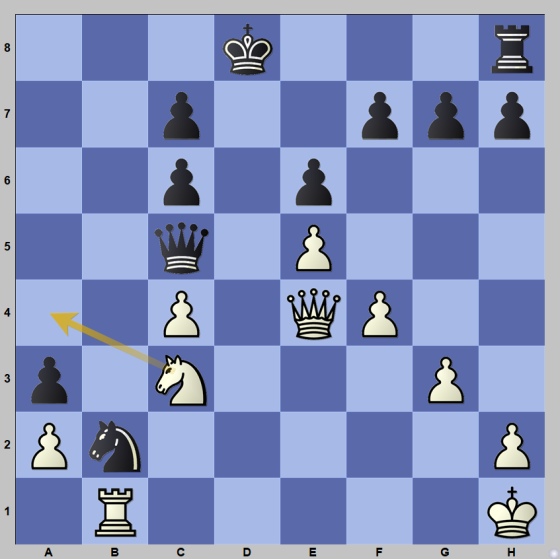 Following the English Opening which transposed into the Modern Benoni reversed, the two reached the following position. Black is a pawn up but his pawn structure is weak and the rook on h8 is yet to join the action.
In a slightly inferior position, Dubov found a nice combination for a draw: 27.Na4! Qf2 28.Qxc6 Qc2 29.Nc5 Qb1+ 30.Kg2 Qd1 31.Nb7!+ Ke7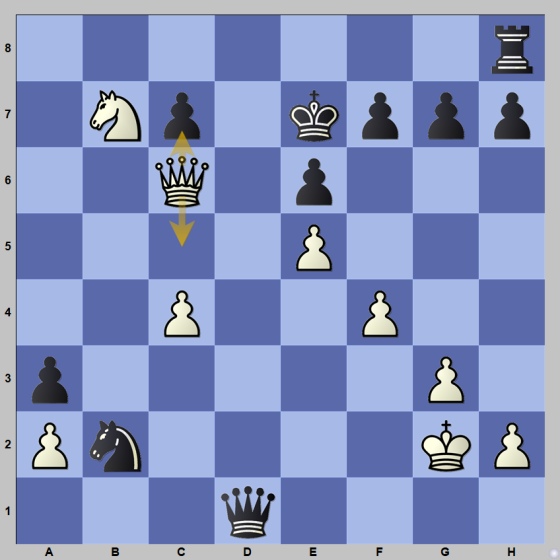 Now Dubov should have continued with 32.Qc5+ and after 32…Ke8 33.Nd6+ Kf7 34.Qb5+ Ke7 35.Qc5 both sides can only give perpetual checks.
Dubov instead took the pawn with 32.Qxc7+ and after 32…Qd7 35.Qc5+ Ke8 36.Nd6+ Kd8 37.Qxa3? (37.Kh3 offered more chances) Qc6+ 38.Kh3 Nxc4 39.Nxc4 Qxc4 Black repelled all the threats and preserved his extra rook.
Saleh Salem scored an impressive victory as White over Bardiya Daneshvar.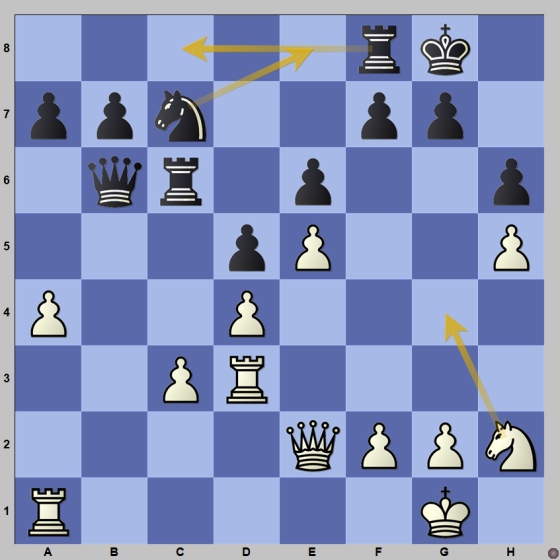 White's pieces are poised for an attack on the black king. Black should have taken it seriously and focused more on defending, with 26…Ne8. Instead, he played 26…Rc8?
27.Ng4! Ne8 but now it's late 28.Nh6!! gxh6 29.Rg3+ Kf8 30.Qd2 Ke7 31.Qxh6 Qxb2? The fatal error.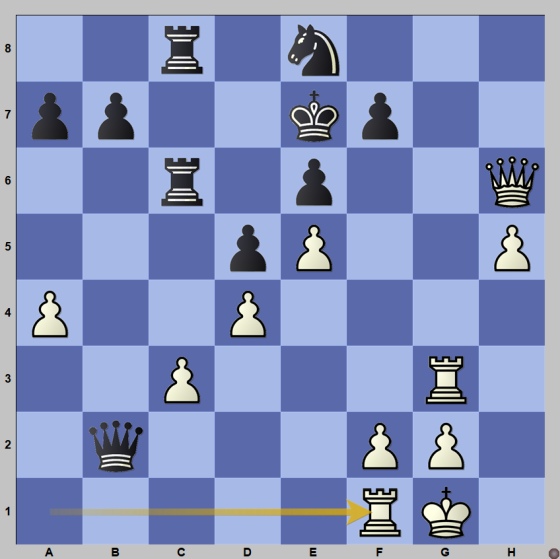 After the precise 32.Rf1! White is simply unstoppable 32…Qc2 33.Qg5 Kd7 34.Qg8! Nd6 35.Qg7 Nf5 36.Qxf7+ Ne7 37.Rg7 Re8 38.h6 Qf5 39.Qf6! Qh5 40.h7 Rcc8 41.c4! dxc4 42.d5 and Black has no good options to resist anymore.
Guseinov dropped a point to Dominguez Perez in an even endgame. In a deeply analyzed and tested line of the Four Knights Variation of the Sicilian, playing as Black, he got three pawns for the knight. As the game progressed the two reached the following endgame: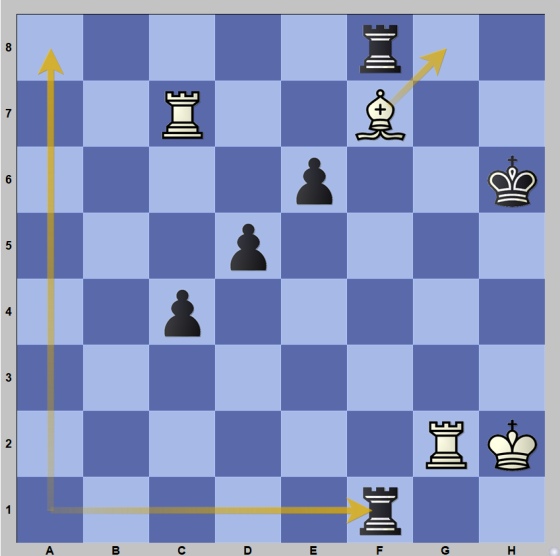 In time trouble, Black misplayed with a seemingly logical move 40…Rf1? Guseinov should have proceeded with 40…Rfa8 maintaining the balance. But now: 41.Bg8! and Black either has to give up a rook for the bishop with his king in a mating net, or accept immediate checkmate.
Aleksandra Goryachkina won her game as White against Divya Deshmukh after the Indian player overlooked a combination early on, after which she was in dire straits.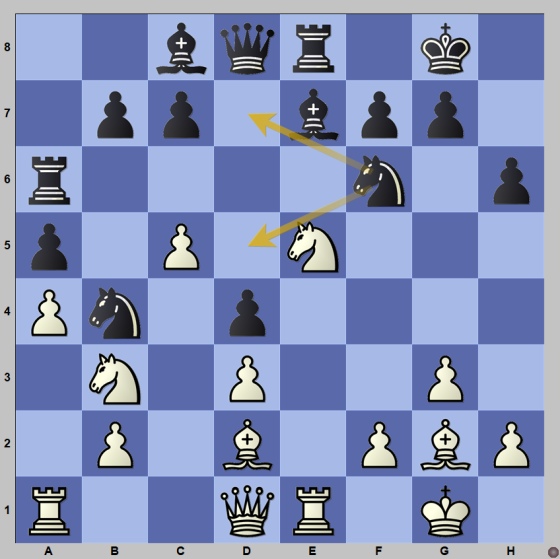 16…Nd7? (better was 16…Nd5) and after 17.Nxa5 Bxc5 18.Nxb7 Bxb7 19.Nxd7 Rxe1+ 20.Bxe1 Qxd7 21.Bxb7 White is not only a pawn up but also significantly better.
The game between Zhao Xue and Nino Batsiashvili ended with a victory for Black after White underestimated the attacking chances against her king.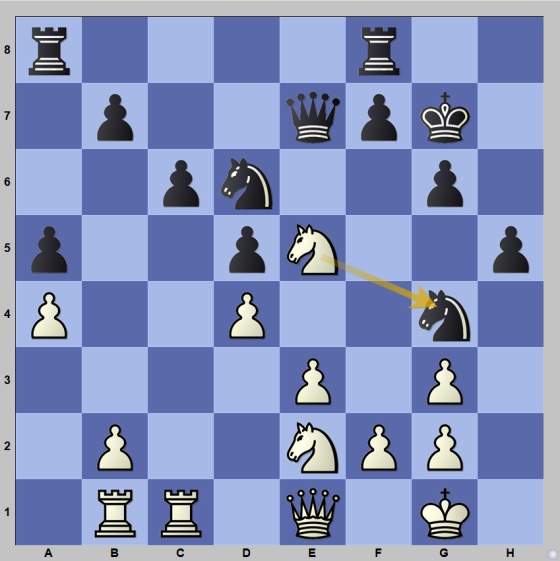 Black is significantly better but  Zhao's trade of the knights is a perfect illustration of "the cure is worse than the disease".
25.Nxg4? hxg4 26.Rc5 Completely ignoring Black's potential on the h-file, although White's position is beyond repair. And now: 26…Rh8 27.Rxa5 Rae8 28.Qb4 Rh6 29.Rc1 Qe4!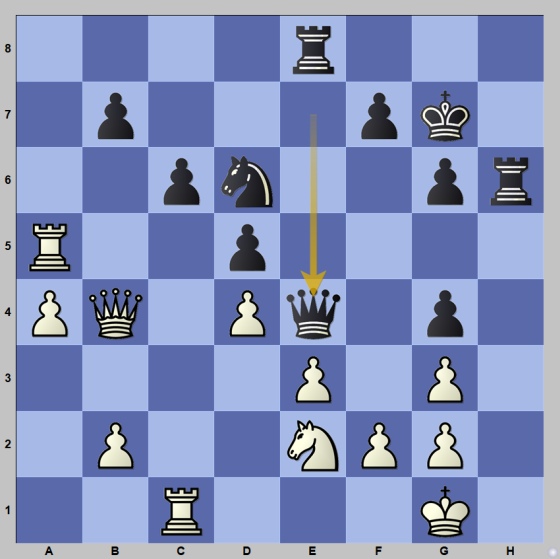 White resigned as there is no way of stopping the rooks to align on the h-file with a deadly effect. 0-1
Text: Milan Dinic
Photo: Stev Bonhage, Anna Shtourman and Maria Emelianova (chess.com)
---
About the event
The FIDE World Cup 2023 is taking place from 29 July to 25 August 2023 in Baku, Azerbaijan.
In the Open tournament, 206 players were eligible to take part and 103 in the Women's event.
There will be eight rounds in the Open and seven in the Women's tournament. Each round will be played under a knock-out system, consisting of a 2-game match. In the case of a tie, the players will play a rapid and, if necessary, a blitz tiebreak until the winner is determined.
The winners of the top three places in both sections will qualify for the 2024 Candidates tournament.
In both events, the time control for each game is 90 minutes for the first 40 moves, followed by 30 minutes for the rest of the game with an increment of 30 seconds per move starting from move 1.
The prize fund for the entire event is 2.5 million US Dollars, with $1,834,000 in the Open and $676,250 in the Women's tournament. The 2023 FIDE World Cup has the largest prize fund for any chess tournament ever played.
More information about the event: worldcup2023.fide.com/
Regulations: 
Open tournament: handbook.fide.com/files/handbook/WorldCup2023Regulations.pdf 
Women's event: handbook.fide.com/files/handbook/WWorldCup2023Regulations.pdf
Schedule: worldcup2023.fide.com/schedule