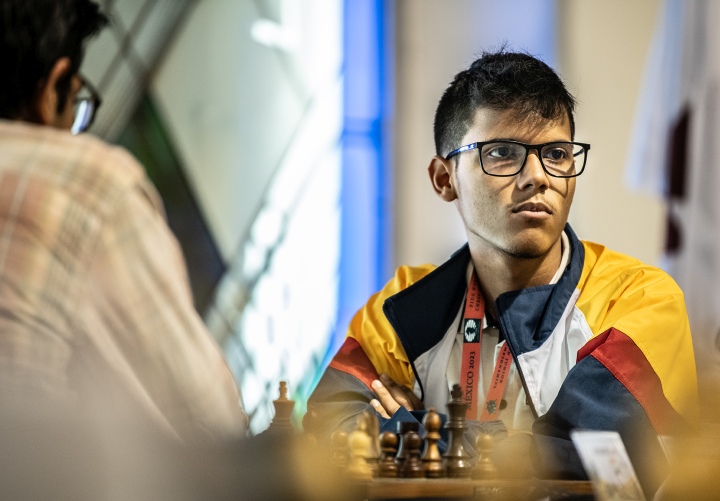 Round 7 at the FIDE World Junior Championship in Mexico has been the most intense and exciting so far. In the open section, the day started with no less than six players tied in the first place, a number that was reduced to just three co-leaders after four out of the five top boards reached a decisive result: Maurizzi, Dudin and Avila are in command with 6/7. It appears that fatigue is taking its toll on the players after the first week of competition, as critical tactical miscalculations decided some of the key games.
In the game between Maurizzi and Anand Pranav (pictured below), the French GM outplayed his opponent by tactical means in a rare line of the Giuoco Piano, winning a pawn and then advancing with his majority on the Queenside. It was a fine game by Maurizzi, who so far is looking like a very solid candidate to win the event.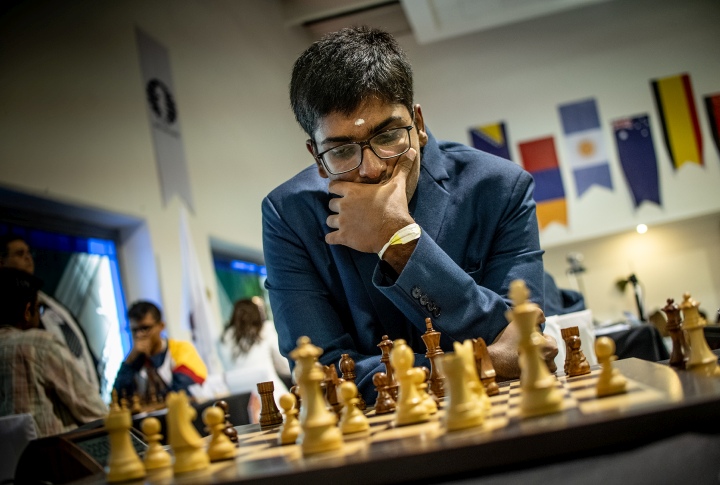 On board two, Gleb Dudin and Ruben Koellner went for a sideline of the King's Indian Attack, where Koellner strangely lost a central pawn right in the opening. That was too much of a gift at this level, and Dudin gave him no chance at all.
The game between Dushyant Sharma (white) and Santiago Avila (pictured at the top) was also decided by a blunder early into the game, as Sharma missed a tactical trick, 17.Nxe4. The young Colombian, a favourite player among local fans, demonstrated great tactical prowess. Of the three players currently leading, he is the one with a better provisional tie-break. Being on top form, he has a very good chance to win the title: in Round 8, he will have White against Marc Andria Maurizzi in a crucial game.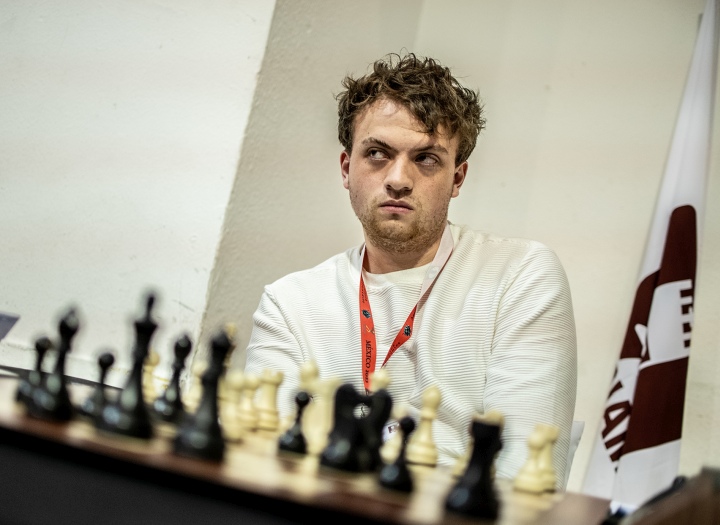 The top seed Hans Niemman had to settle for a draw, with Black, against the World Champion U18 2022, the Canadian Shawn Rodrigue-Lemieux. In the Short variation of the
Advance Caro-Kann, Shawn played dynamically and obtained a dangerous initiative, although he was a pawn dawn. Niemman defended correctly and made use of his material advantage to equalize, and he even had some chances towards the end of the game.
In the Girls' section, Carissa Yip won again, this time with White against Sofiia Hryzlova of Switzerland. The young American prodigy seems to be in a class of her own: the way she traded a small strategic advantage for a dangerous attack at the cost of a pawn is highly instructive.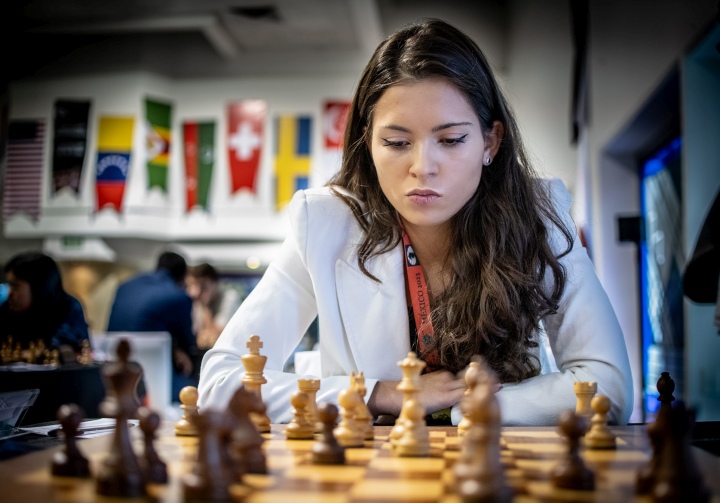 After seven rounds, it is not clear who will be able to challenge Carissa's dominance. The next one to try her luck against the leader will be Beloslava Krasteva of Bulgaria (pictured above), who defeated Mariam Mkrtchyan and moves to second place on 6/7. In her Round 7 game, Krasteva demonstrated excellent opening preparation and came up with a very interesting move in the Nimzo-Indian, 10.Qd3, which has only been played once before. Her neat victory resembles a classical game in which White straightforwardly follows a simple and logical plan.
The main pairings for the 8th round are in the open section are Santiago Avila
– Marc Andria Maurizzi, and Mamikon Gharibyan – Gleb Dudin. In the Girls competition, Carissa Yip will take on Beloslava Krasteva, while Roxangel Obregon will face Trisha Kanyamarala.
Standings after Round 7:
Written by David Llada
Photos: David Llada