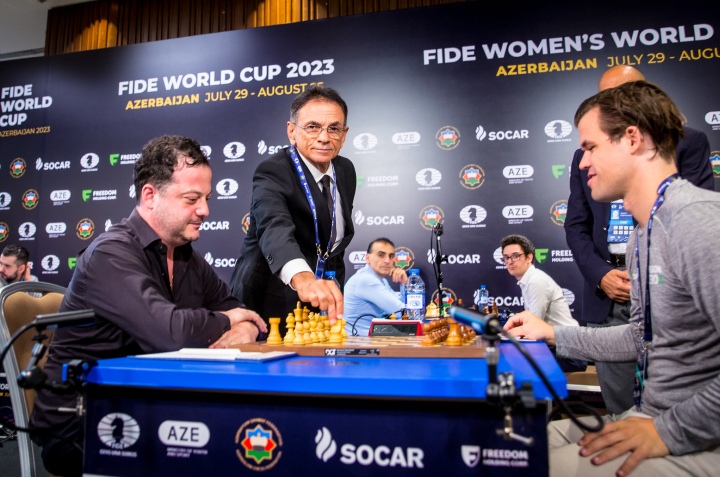 The second round of the World Cup saw the world chess elite enter the field. While a lot of the favourites won, many of them – in both the Open and the Women's tournament – were held to a draw
The world's strongest chess players played their first game in the World Cup today, as the top 50 in the Open and the top 25 in the Women's group entered the tournament.
Despite being the strong favourites based on their rating and achievements, many of the top world players were having a difficult time and had to satisfy with a draw.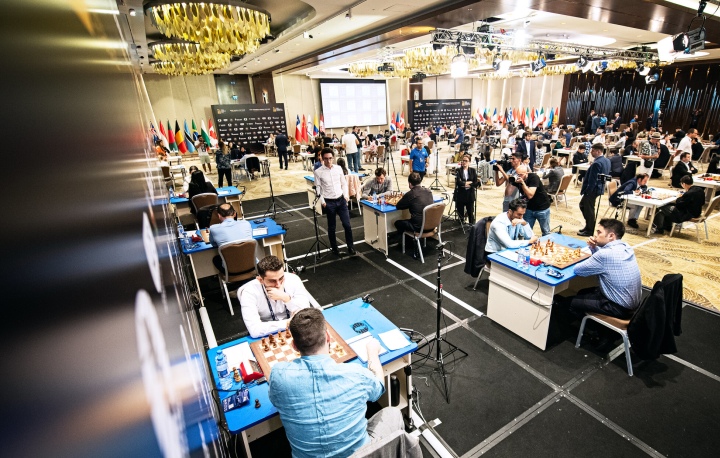 The world's highest-rated player (2835) and former World Champion Magnus Carlsen – who had never won the World Cup before – started the tournament with a victory. On the other hand, in the Women's World Cup, defending World Champion Ju Wenjun started with a 16-move draw with white pieces.
The biggest upset of the day is the loss of the US 2018 champion and super GM Sam Shankland to a 200 points lower-rated GM Ivan Schito from Moldova.
In the Women's tournament, Sara Khadem was the only favourite to suffer a defeat. After misplaying in the early stages of the game facing Medina Warda Aulia from Indonesia, Khadem found herself in a lost position and ultimately had to resign.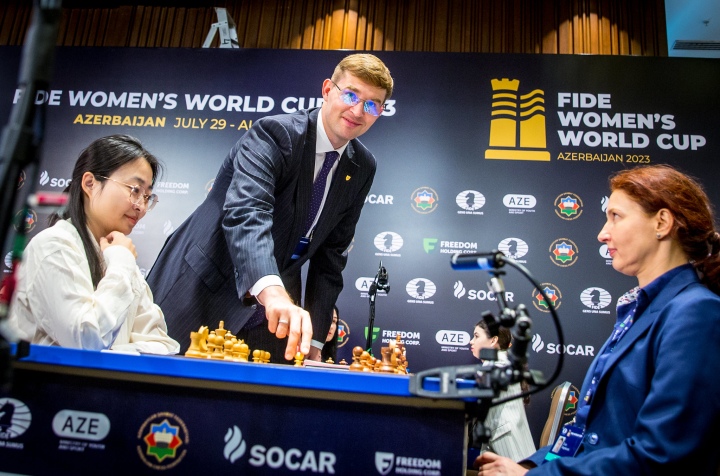 There were two honorary guests of the day making the first move. In the Open event, on board one where Magnus Carlsen was playing against Georgia's Levan Pantsulaia, the first move was made by Madat Guliyev, the Minister of Defence Industry of the Republic of Azerbaijan, a National Hero of Azerbaijan and a Colonel General. In the Women's event, the first move was made on the board Bibisara Assaubayeva – Qianyun Gong, by Timur Turlov, the President of the Kazakhstan Chess Federation and the CEO of Freedom Holding Corp, partner of the FIDE World Cup 2023.
 The Open tournament:
US 2018 Champion and super GM Sam Shankland suffered a surprising defeat as White at the hands of GM Ivan Schitco from Moldova. In a slightly better position in a rook endgame, Shankland first dropped the advantage and then blundered and ended up facing checkmate. A heavy blow for Shankland, who will have to win the second game in order to reach the tiebreak.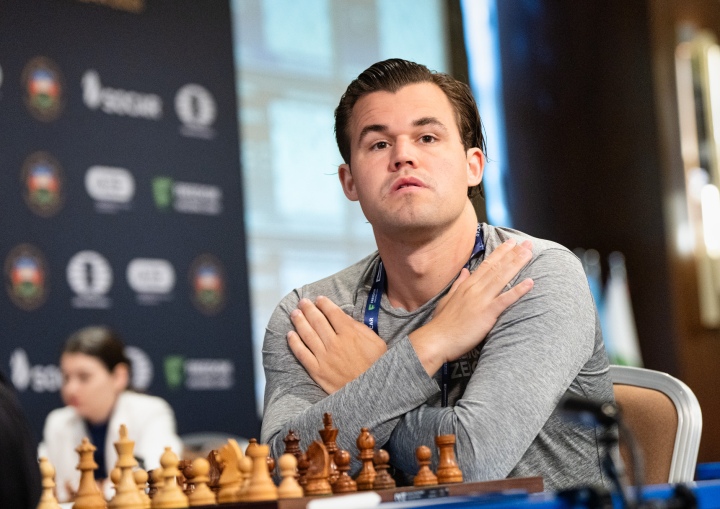 Magnus Carlsen won as Black in 44 moves against Georgia's Levan Pantsulaia. Despite Pantsulaia's managing to hold the position steady through the middlegame, Carlsen gradually increased his pressure and as the game simplified, entered a queen and knight endgame where he was a pawn up. Pantsulaia had two chances to make a comeback but failed. A good start for Carlsen, who, despite winning, said he felt 'a little bit rusty going in'.
Other top favourites also started with a victory: Fabiano Caruana, Ian Nepomniachtchi, Leinier Dominguez Perez, Gukesh D, Yu Yangyi, Wei Yi, Nikita Vitiugov and Daniil Dubov. The winner of the 2021 World Cup, Jan-Krzysztof Duda, had a lucky break as his opponent went for an unsound sacrifice and was immediately lost.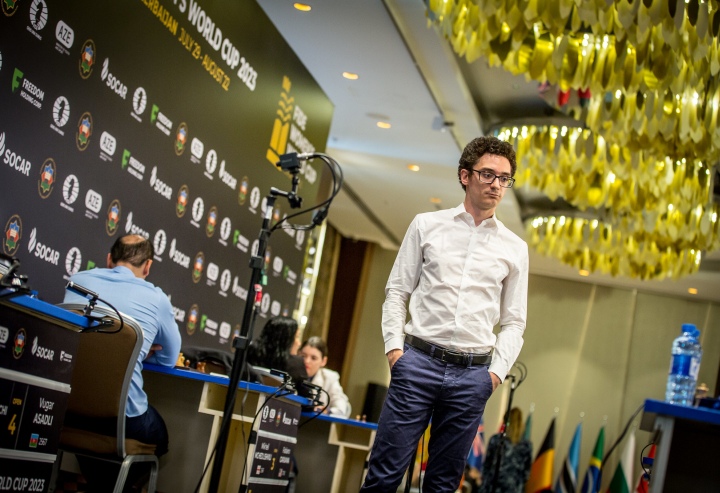 In a game which was played until the bare kings were the only pieces left standing, Hikaru Nakamura split a point with India's Venkataraman Karthik. Despite Nakamura creating a 2:1 pawn advantage on the kingside, Karthik held out until all the pieces were removed from the board.
There were some other notable surprises in the Open: super GM Anish Giri was pressured by the tiebreak qualifier, 221 points lower-rated Arseniy Nesterov, and had to deliver perpetual. Wesley So (2769) allowed Turkey's Emre Can (2570) to get a slightly better position as Black, but the game ended in a draw.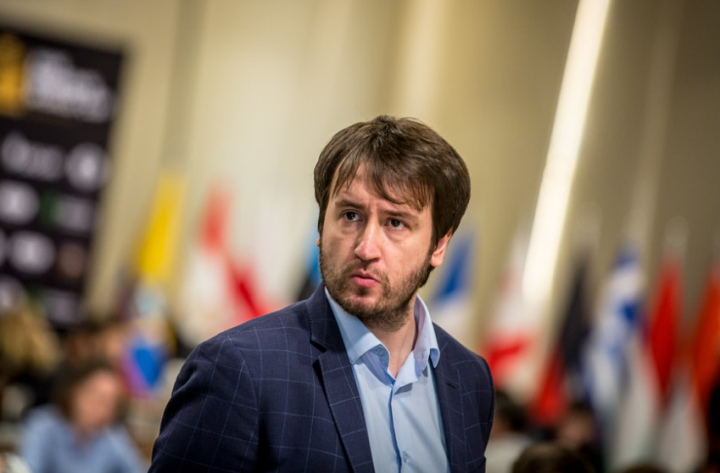 Azerbaijan's Teimour Radjabov also drew against 200 points lower-rated Viktor Erdos from Hungary. Despite leading the white pieces, Alexander Grischuk could not inch any advantage against Iran's Bardiya Daneshvar, and the two agreed to split a point. Super GM and Azeri hope Shakhriyar Mamedyarov also drew against Tin Jingyao of Singapore. The former World Champion Candidate, Boris Gelfand, had a tangible advantage against Ferenc Berkes but dropped it in a critical moment, with the game ending in a draw. Super GM Maxime Vachier-Lagrave (2739) drew with white pieces with 2576-rated Valentin Dragnev.
The Women's tournament
The Women's World Cup saw a series of surprising draws between the favourites and significantly lower-rated players.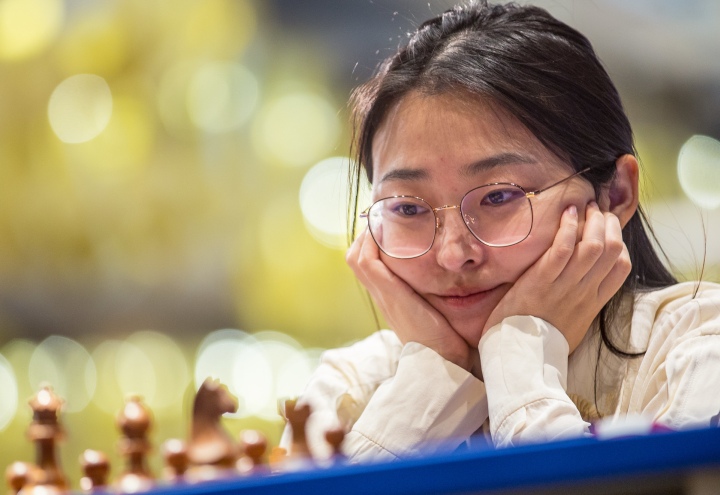 The reigning Women's World Champion Ju Wenjun – who came to Baku directly after defending her world title in a match in China – joined the tournament today along with 24 other top-seed women players. Ju (rated 2564) was up against more than 200 points lower-rated Slovak IM Eva Repkova (2312). It was an underwhelming performance by the World Champion as she entered a drawish line in the Catalan, and the game ended in threefold repetition after just 16 moves.
The biggest upset of the day in the Women's tournament was Sara Khadem. Playing under the Spanish flag, lost to Medina Warda Aulia of Indonesia. Sara made several errors early on and allowed her opponent to create an advanced passer on the c-file and dominate.
One of the longest games of the day was played between former Women's World Champion Mariya Muzychuk and her Ukrainian compatriot Anastasiya Rakhmangulova. Mariya achieved an advantage in the opening, but in an attempt to organise a deadly attack on the black king, she miscalculated and ended up in an even position. The two transitioned to a drawn opposite-coloured bishops endgame where Black was a pawn up. After playing it for quite some time, the two decided to call it a day and split a point.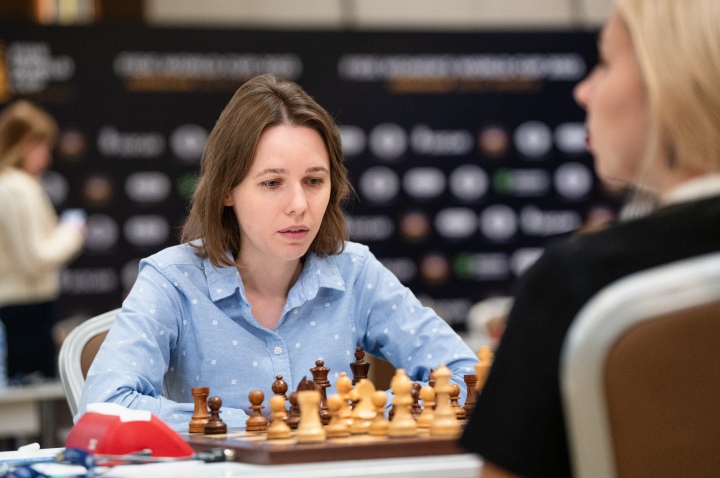 There were other relatively surprising draws among women: Former World Champion Tan Zhongyi did not manage to make progress against the 250 points lower-rated Julia Ryjanova playing for Australia. Former Women's World Champion Candidate Aleksandra Goryachkina also drew, as Black, against the more than 200-points lower rated IM Ordaz Valdes from Cuba. Kateryna Lagno dropped a significant advantage in the endgame against Mary Gomez of India and also had to settle for a draw. The same happened to Nana Dzagnidze (Georgia) in her game against Klaudia Kulon (Poland).
Still, many of the favourites won: The winner of the 2021 Women's World Cup and former Women's World Champion, Alexandra Kosteniuk, outplayed Yan Tianqi in the French defence and scored a victory. The winner of the super strong Women's Grand Prix leg in New Delhi 2023, Zhu Jiner bested the tiebreak qualifier from Aftentina, Candela Francisco Guecamburu, defeating her with a nice combination. Polina Shuvalova easily scored a full point after her opponent made a huge blunder early in the opening. India's Humpu Konery also won as White against compatriot Nutakki Priyanka.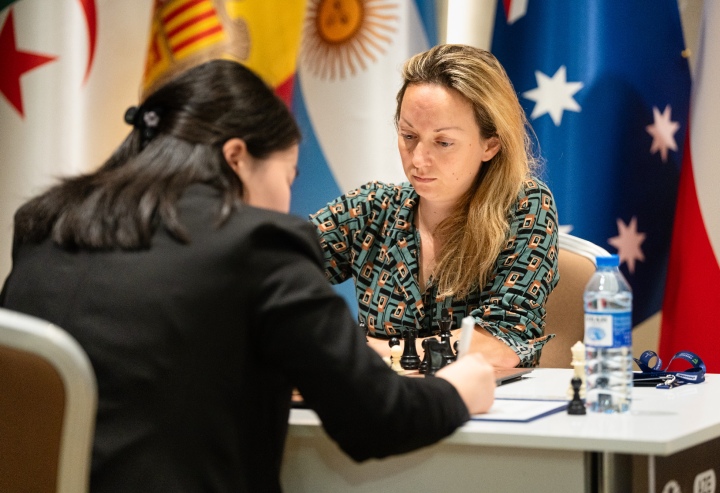 German GM Elisabeth was completely lost against Turmunkh Munkhzul from Mongolia, but made good use of her opponent's gift and snatched the victory.
Game two of the second round of the World Cup will take place on Thursday, August 3, at 3 PM local time in Baku, Azerbaijan.
Here follows a closer look at some of the positions from the first game of the second round of the World Cup:
A sharp game was played between India's Praggnanandhaa and Maxime Lagarde of France. In an unusual line of the Ruy Lopez, White made a mistake which allowed Prag to set the board on fire: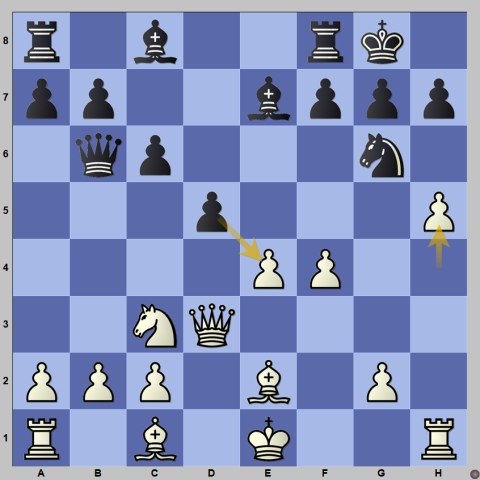 White had just played h5, hoping to advance his attack on the black king. However… 12…dxe4! 13.Qg3 Nh4 14.Rxh4 Qg1+ 14.Bf1 If 15.Kd2 then 15…Rd8+ 16.Bd3 Bxh4 17.Qe3 Qxg2+ 18.Qe2 Qxe2+ 19.Kxe2 exd3+ 20.cxd3 and White is a rook down.
14…e3!  If White plays 15.Ne2 in an attempt to capture the queen, Black has a winning move 15…Qf2!
White proceeded with 15.Nd1 Re8 16.Ke2 Be6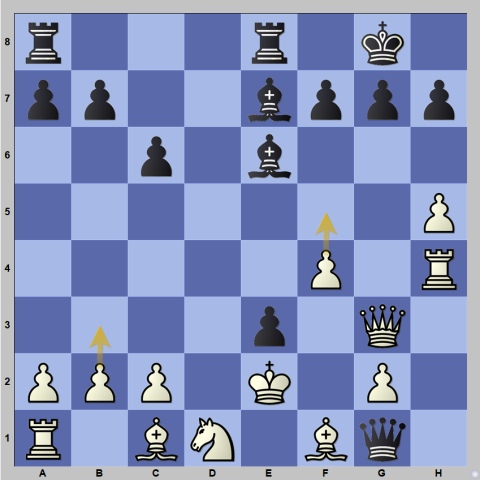 The only chance for White was 17.f5, although after 17…Bxh4 18.Qxh4 Bd5 Black is clearly better. Instead, Maxime played 17.b3 and after 17…Rad8 18.Nxe3 Bf6 Pragg was in full command. 0-1, 37 moves.
China's Zhu Jiner scored an impressive victory in her World Cup debut. Playing as White against Argentina's Candela Francisco Guecamburu she got a better position out of the Ruy Lopez. As the grip around Black tightened, the Argentinian continued to err and Zhu found an effective way to finish the game: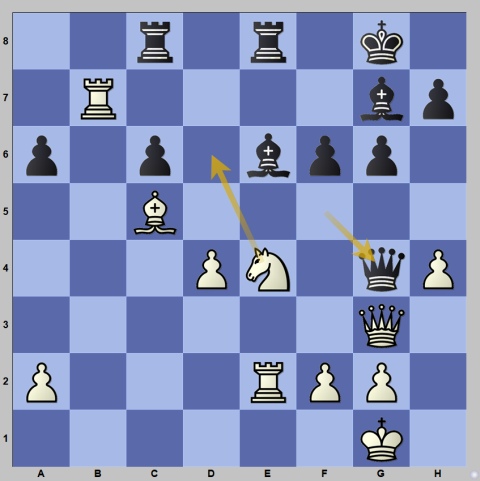 24.Nd6! Qxe2 25.Nxe8 Bh8 (25…Rxe8 26.Qc7) 26.Re7 Qd1+ 27.Kh2 Qg4 28.Qd6 Bd5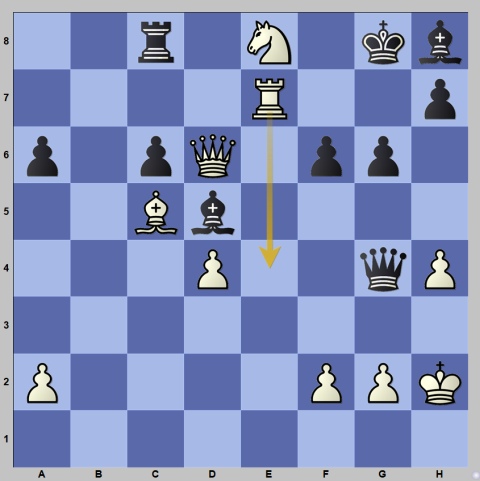 29.Re4!! and Black resigns. 1-0
Polina Shuvalova had a relatively easy day as her opponent, Azeri WGM Govhar Beydullayeva made a huge blunder as early as move eight in a popular line of the Catalan: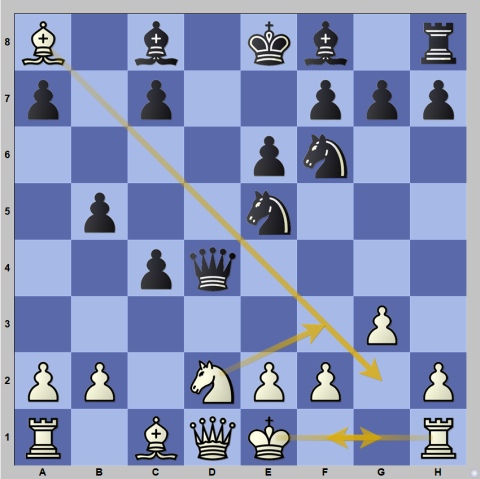 Instead of returning her bishop to g2 or castling short, Beydullayeva played 9.Nf3?? After 9…Bb4+ 10.Bd2 Qxb2 Black got three pawns for an exchange and the overwhelming advantage. 0-1, 37 moves
The 2021 World Cup winner Jan-Krzysztof Duda won against Peru's GM Emilio Cordova after Black made a huge error in judgment, opting for an uncalled sacrifice in an even position.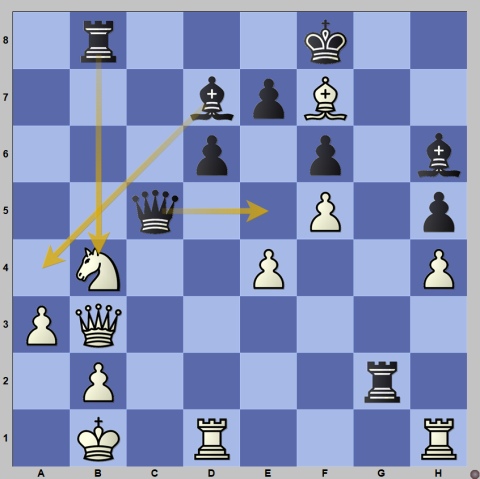 The position is around even although White is a pawn up and has two passers on the Queenside. Black had a couple of reasonable options, maintaining the balance, namely 24…Qe5 and 24…Ba4.
Instead, Cordova made a step into the abyss with 24…Rxb4?? after which White was just winning.
25.axb4 Qe5 26.Bd6 Ba4 27.Qa3 Be3 28.Rd3 Bd4 29.Rb3 Be8 30.b5 Kg7 31.Qa8 and Black resigned. 1-0
Germany's top woman GM Elisabeth Paehtz had a lucky break after saving a completely lost game.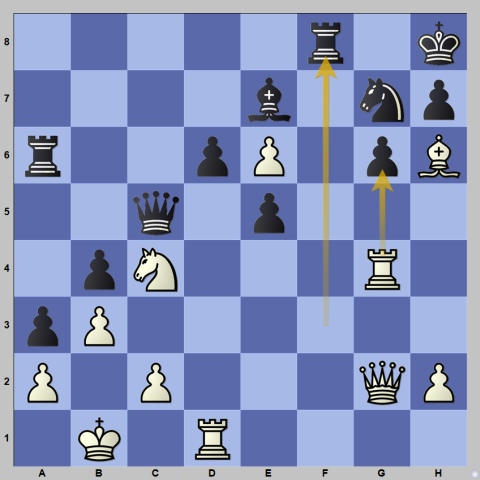 The position is even. The best option for Black was to put her rook on f6, protecting the g6-square, instead, Paehtz placed it on f8.
Now after 35.Rxg6 hxg6 36.Qxg6 Nxe6 37.Be3 Black faces a choice between checkmate and losing her queen.
Instead of this, her opponent Turmunkh Munkhzul from Mongolia opted for 35.Rg1? and the position was even.
However, after 35…Nxe6 Munkhzul made a blunder with 36.Rxg6??. She had the same idea as the winning combination mentioned above but mixed up her moves. Now after 36…hxg6 37.Be3 Nf4! Black emerged with an extra rook. 0-1, 52 moves.
Sam Shankland ended up losing in an endgame where he was slightly better but then it was even.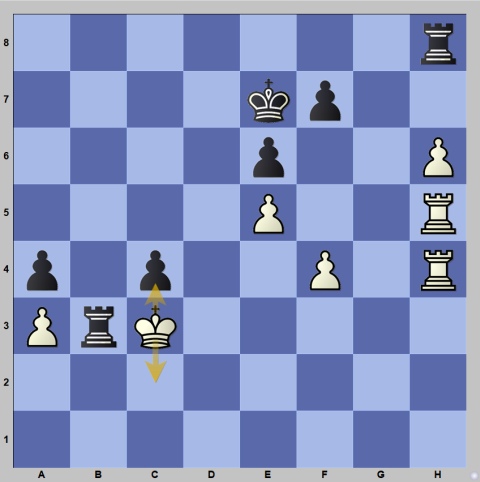 In this position, the best option for Shankland was 57. Kc2. Instead, he played 57.Kc4?? After 57…Rc8+ 58. Kd4 Rbc3! there was no escape from checkmate. 0-1
A shocking loss for someone like Shankland.
Text: Milan Dinic
Photo: Stev Bonhage, Anna Shtourman and Maria Emelianova (chess.com)
---
About the event
The FIDE World Cup 2023 is taking place from 29 July to 25 August 2023 in Baku, Azerbaijan.
In the Open tournament, 206 players were eligible to take part and 103 in the Women's event.
There will be eight rounds in the Open and seven in the Women's tournament. Each round will be played under a knock-out system, consisting of a 2-game match. In the case of a tie, the players will play a rapid and, if necessary, a blitz tiebreak until the winner is determined.
The winners of the top-three places in both sections will qualify for the 2024 Candidates tournament.
In both events, the time control for each game is 90 minutes for the first 40 moves, followed by 30 minutes for the rest of the game with an increment of 30 seconds per move starting from move 1.
The prize fund for the entire event is 2,5 million US Dollars, with $1,834,000 in the Open and $676,250 in the Women's tournament. The 2023 FIDE World Cup has the largest prize fund for any chess tournament ever played.
More information about the event: worldcup2023.fide.com/
Regulations: 
Open tournament: handbook.fide.com/files/handbook/WorldCup2023Regulations.pdf 
Women's event: handbook.fide.com/files/handbook/WWorldCup2023Regulations.pdf
Schedule: worldcup2023.fide.com/schedule